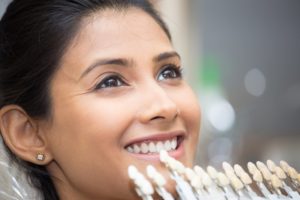 Dental veneers are a common treatment and a go-to option for celebrities. These wafer-thin, custom shells of porcelain fit perfectly over the front surface of teeth to mask imperfections in the mouth like discoloration, chips, gaps, undersized teeth, and minor misalignment issues. Before you commit to the procedure, it pays to know what you can expect. Read on to learn what goes into the veneer process according to your cosmetic dentist in New Bedford.
Create a Plan
Step one is to create a plan with your dentist. They will need to know what your ideal smile looks like to help you achieve your goals. The more specific you can be, the better. Try bringing in photo examples of what you would want your result to look like. Your dentist will give you their professional input so you can make an informed decision on a gorgeous, achievable end goal.
Prepare Your Teeth
Once you and your dentist have formulated a treatment plan, it's time to start prep work. After confirming you don't have any existing oral health issues that need treatment, a small amount of enamel will be removed from the front surface of the teeth to make room for the veneers. Their goal is to remove as little tooth structure as possible since this is not reversible.
Craft at the Laboratory
After your teeth are prepped, your dentist will have an impression of them made and sent off to the dental laboratory where your veneers will be crafted. In the meantime, you will be given a temporary set that will allow you to speak, chew, and smile with ease in the coming weeks until you can have your final restorations placed.
Receive Your Veneers
Your dentist will let you know when your veneers are ready so you can return to the office. At this point, they will adhere to the front of your teeth. This is done by etching the inside of your veneers and the surface of your teeth with a mild acidic solution to open tiny pores. Next, translucent cement is placed to fill the pores. This will help your veneers bond with your teeth.
With so many aesthetic benefits, it's no wonder why veneers have become so popular in Hollywood. A consultation with your New Bedford dentist will help you determine if they are the right option to maximize your smile!
About the Author
Dr. Moftah El-Ghadi has been working hard for the smiles of New Bedford for more than two decades. He earned his dental doctorate from the University of Pennsylvania and then pursued his General Practice Residency at Harvard School of Dental Medicine, followed by the completion of his prosthodontics certificate at Tufts University School of Dental Medicine. Now that you know more about the veneer process, casual observers will never even realize why your smile is flawless, plus dental financing is available. Schedule a consultation on his website or call (508) 996-6777.