Dental Bridges – New Bedford, MA
Replace Several Missing Teeth All at Once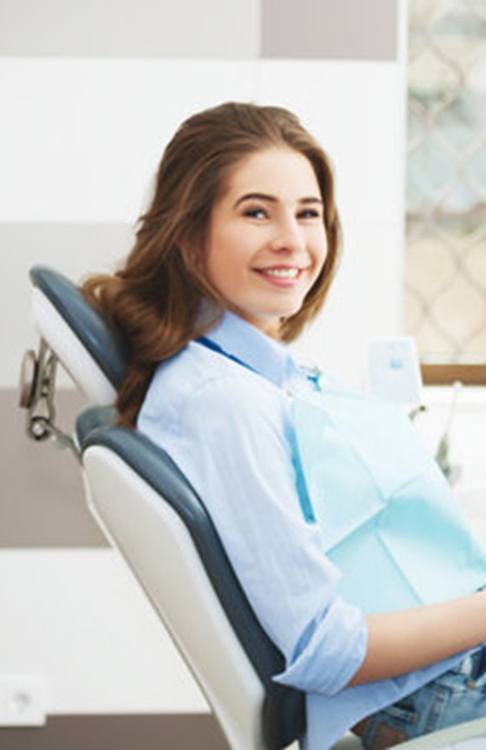 If you're struggling with tooth loss, you aren't alone; several million Americans deal with this issue! But fortunately, there are many tooth-replacement solutions these days, including dental bridges in New Bedford. They can effectively replace several missing teeth all at once while restoring your smile in terms of look and functionality! Continue reading to learn more about bridges and their benefits, or feel free to contact us for additional information or to schedule a visit.
Why Choose Sound Dentistry for Dental Bridges?
Beautiful, Natural-Looking Restorations
Durable, High-Quality Materials
Friendly and Experienced Dental Team
What Is a Dental Bridge?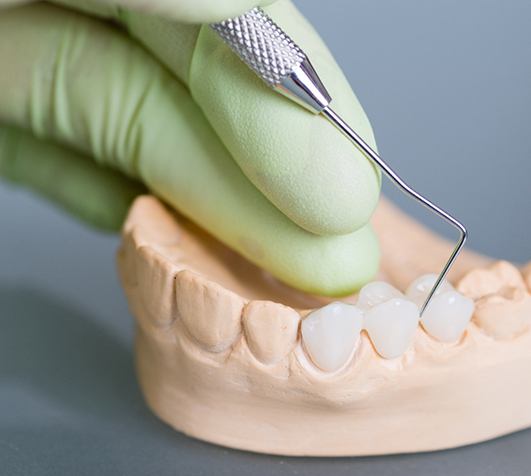 Unlike a crown, which is intended to restore the structure and function of a damaged tooth, a dental bridge is a device that's used to close the gap left behind from a missing tooth or multiple missing teeth. It permanently anchors the artificial tooth (or teeth) to the adjacent, existing teeth and jaw, successfully filling in the open gap.
This restoration is critical in preventing teeth from drifting into this missing space and causing problems with your bite. Dental bridges are also natural-looking and don't feel awkward or uncomfortable once they've been added.
Types of Dental Bridges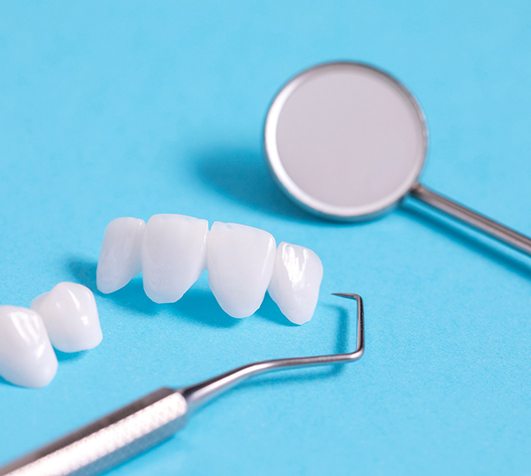 The only way to determine which type of bridge is best for your smile is by visiting us for a consultation. We're proud to offer traditional dental bridges and implant bridges; here's a little more about what you can expect from each:
Traditional Dental Bridge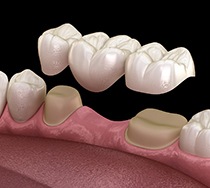 For patients missing one or several teeth in a row, traditional dental bridges are one of the easiest ways to close the gap. First, we'll place a dental crown on either side of the gap and "bridge" the space with pontics (artificial teeth), before cementing your restoration in place so that it remains there for many years to come.
Implant Bridge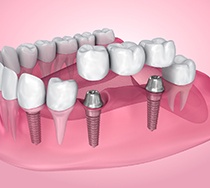 While traditional dental bridges rely on healthy adjacent teeth for support, implant bridges are directly affixed to your jawbone with the assistance of dental implants. Due to this impressive level of stability, your restoration will have a much longer lifespan, feel more natural, and return more of your biting power!
The Benefits of Getting a Dental Bridge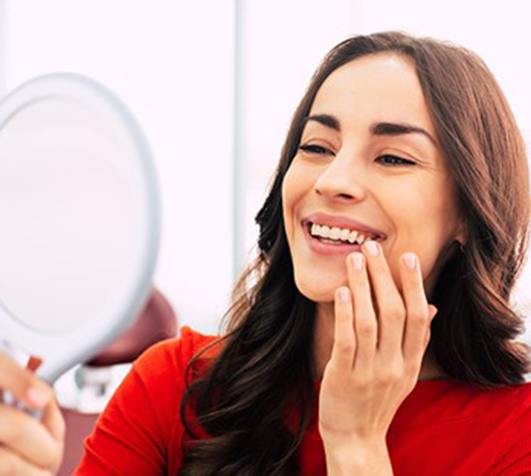 There are several awesome benefits that patients will experience upon receiving a dental bridge, such as:
Bridges are a customized dental restoration that blend in with your natural smile.
They're able to replace one, two, or several missing teeth in a row.
They restore and improve your chewing power.
They help prevent future misalignment issues.
They're capable of lasting 10+ years with proper care, with implant bridges lasting even longer.
Dental Bridges FAQs
Dental bridges in New Bedford are a tried-and-proven method of treating consecutive tooth loss. Although they are supported by decades of success, a dental bridge is a big commitment. Don't worry if you have a few concerns because your dentist at Sound Dentistry will explain exactly what you can expect on the road ahead. While you wait for your appointment, here are the answers to the most frequently asked questions.
Are Dental Bridges Removable?
A fixed dental bridge is designed to provide a long-lasting solution for tooth loss. Your adjacent teeth are reshaped to allow dental crowns to fit over them to hold your bridge in place. Therefore, your bridge is not removable. If you prefer an option you can take out, ask your dentist about the benefits of a partial denture.
How Long Will a Dental Bridge Last?
Bridges are made from durable materials and can last for a decade or more with the correct care. Your dentist in New Bedford will take the time to explain how you can get the most from your investment, like brushing and flossing. It's best to moderate how often you eat hard or chewy foods to prevent additional wear and tear on your bridge. Break any bad habits that can damage the restoration, like chewing on ice or using your teeth in place of tools. If you have a habit of grinding or clenching your teeth, ask your dentist for a nightguard. Besides caring for your smile at home, don't forget to visit your dentist every 6 months for a cleaning and checkup. Your dentist will check your bridge at each routine appointment to ensure it is still functioning as intended.
Are Dental Implants Cheaper Than Dental Bridges?
Dental implants cost more upfront than a traditional bridge, but they are more affordable long-term. Unlike a regular fixed bridge, dental implants can last for 30 years or more with the right aftercare. As a result, you'll never have to budget for replacements. Not to mention, dental implants keep your jaw strong by replacing the roots of your teeth. You'll avoid common issues caused by missing teeth to prevent needing costly treatments later. An implant bridge doesn't rely on adjacent teeth for support, allowing you to preserve more of your natural smile. You may pay more initially, but you'll save money overall with dental implants.
Can I Use My Dental Insurance to Pay for a Bridge?
Every dental plan and situation differs, but most policies can be used to offset the amount you will pay. You can use your coverage for your consultation and any preliminary treatments. After meeting your annual deductible, your dental insurance will pay a portion of the cost until reaching your yearly limit. A member of our team will work on your behalf with your dental insurance to maximize your coverage and explain your payment options for any remaining balance, like monthly installments through CareCredit.