Cosmetic Dentistry – New Bedford, MA
We Can Help Your Smile Shine Bright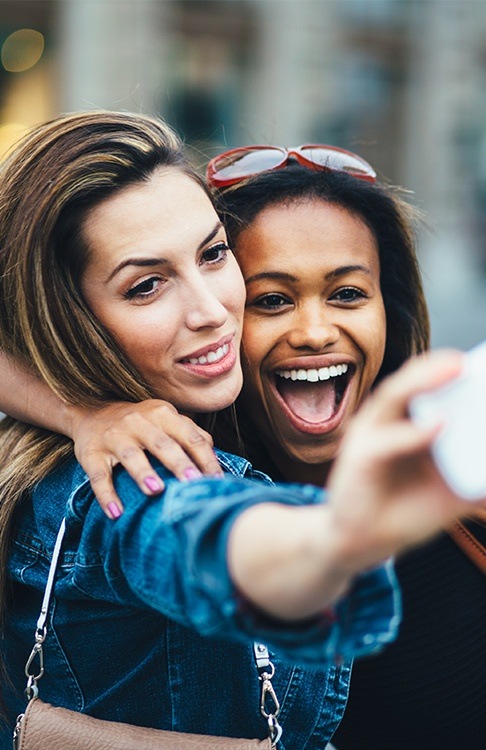 After you've made sure that your smile is free of decay and disease, you can turn your attention to any imperfections that have been bothering you whenever you see yourself in photographs. Are you unhappy with the color of your teeth or the way a visible crack draws unwanted attention? At Sound Dentistry, Dr. El-Ghadi has numerous options for fixing and hiding the flaws that make patients self-conscious about their smiles. Call us today to set up your first consultation to discuss options for cosmetic dentistry in New Bedford, MA.
Why Choose Sound Dentistry for Cosmetic Dentistry?
Beautiful Long-Lasting EMAX Crowns
Digital Imaging for Advanced Planning
State-of-the-Art Take-Home Whitening
Porcelain Veneers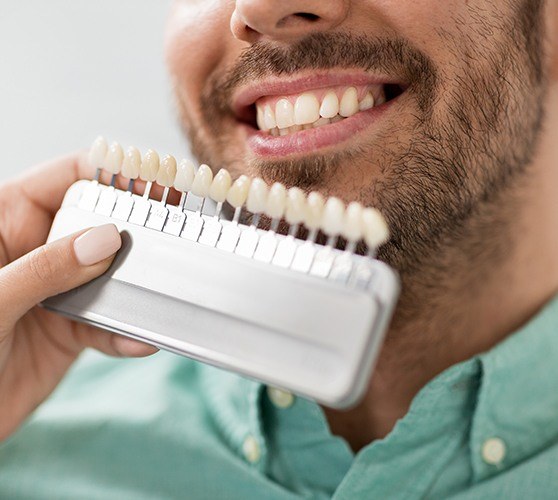 A veneer is often the first solution to come to mind when there's more than one correction to be made. Placing a thin shell over the teeth can immediately hide stains, cracks, chips, misshapen teeth, and small gaps simultaneously. You can get a veneer for a single tooth, but full sets for the entire visible smile are available. Each veneer is fully personalized to look like a natural part of your mouth; casual observers will only see your new flawless smile and won't even realize that any changes have been made.
Metal-Free Dental Restorations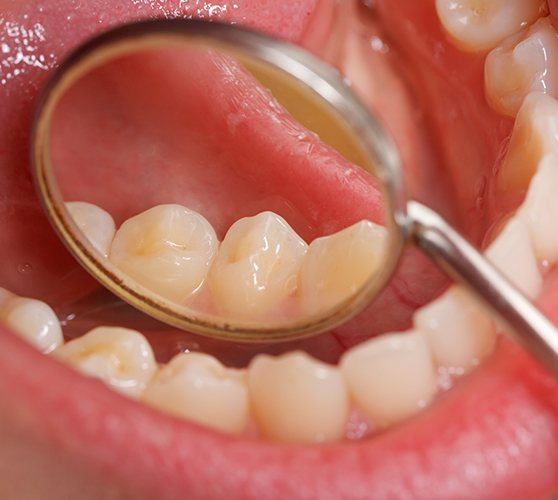 Emax crowns are available in cases where you have a tooth that needs protection or repairs but don't want to compromise your appearance. We can control the shade of an Emax crown so that it matches the other teeth; that way you can keep smiling with confidence while you continue eating your favorite foods. Metal-free crowns can sometimes be placed for purely cosmetic reasons depending on the exact nature of the changes that you want to make.
Dental Bonding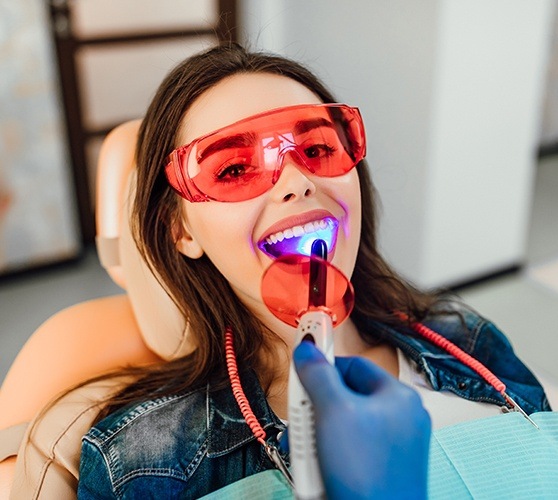 Direct bonding (sometimes called cosmetic bonding or dental bonding) can be thought of as a quick, more cost-effective alternative to veneers when you only need to make a few improvements. In just one short appointment (usually less than an hour), chips, stains, and other flaws are covered up with a small amount of composite resin that is subsequently shaded and molded until it looks like it is just a natural part of the tooth's enamel.
At-Home Teeth Whitening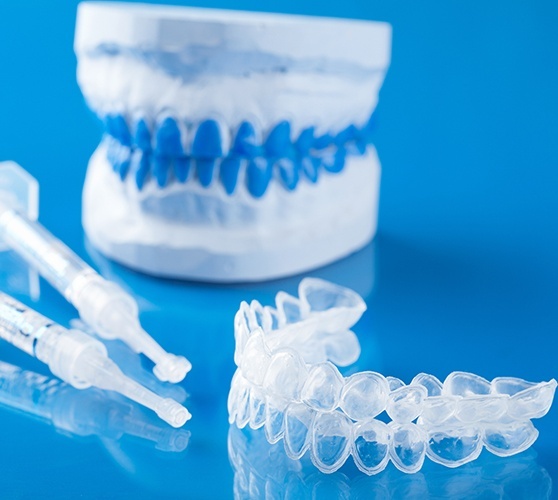 You can find plenty of products promising whiter teeth at the supermarket or the drug store, but none of them match the reliability of our professional-grade whitening kits. Each kit contains a special whitening gel and trays custom-fitted for your mouth. For a certain amount of time each day, you fill the trays and wear them in order to gradually break down the particles causing your dental stains. Your teeth will be notably brighter after just two weeks of treatment!
Invisalign Clear Aligners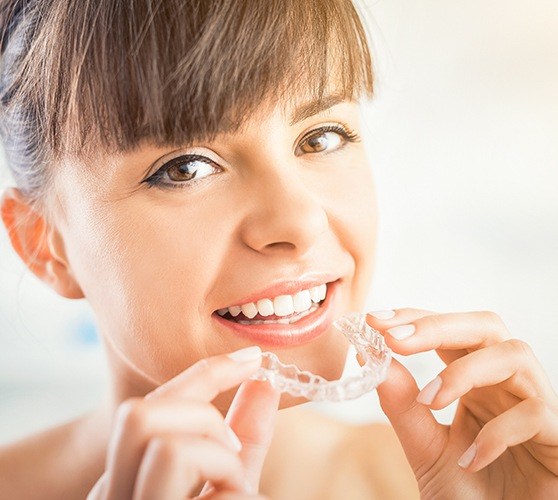 Not everyone needs braces to straighten their smile. Many changes can be made with clear, removable Invisalign aligners. The see-through plastic is nearly invisible against the teeth, so you can smile without the embarrassment that metal brackets and wires can sometimes cause. Teens and older adults also find Invisalign to be extremely convenient compared to more traditional forms of orthodontics because it doesn't stop them from eating anything they want or brushing like they normally would.
Digital Imaging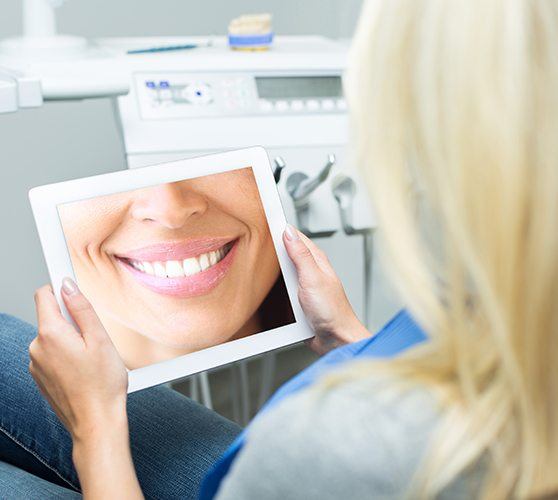 What can you realistically expect from veneers and professional whitening? We can give you a brief peek into the future with digital imaging. A quick photograph of the teeth is taken, and we can modify it to show the possible outcomes of a variety of cosmetic treatments. When you have an idea of what the results will look like, it is easier to make a commitment to a procedure that could potentially take multiple visits.
Gum Recontouring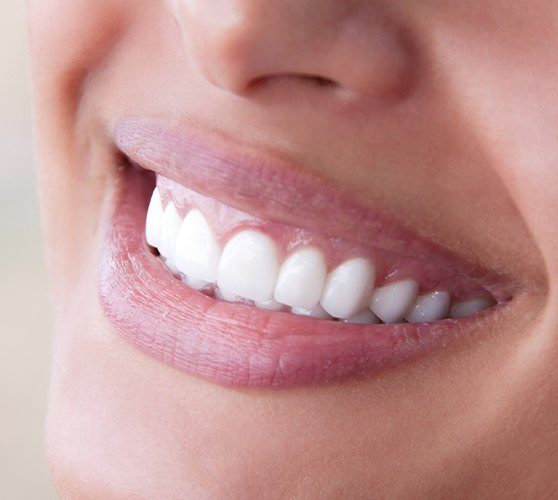 Would you describe your smile as "gummy"? A little too much gum tissue can throw off the balance of your smile, but luckily the problem can be easily corrected with laser dentistry. A small amount of tissue is gently removed to re-sculpt the gumline and expose the parts of the tooth that were previously covered up. With the precision of our dental laser, we can easily shape your gums in order to give your entire smile a perfectly proportioned appearance.